Southwest Montana is crisscrossed with maintained trails ranging from easy riverside strolls to rugged, multiday ridgeline treks. Take in the scenic beauty of our mountains and valleys on your own two feet, and get an authentic feel for our vast natural wonders. Hiking is a lifelong sport that can be done by all ability levels. From short, flat day hikes to hardcore excursions, there is something for every kind of hiker in Southwest Montana.
Hiking Trails
Easy Trails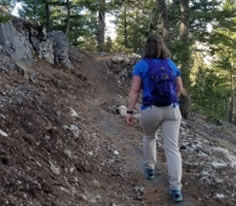 PRICKY PEAR / SOUTH HILLS TRAIL SYSTEM
South of Helena, the South Hills Trail System is a great place for beginner hikers to enjoy time in nature, with out- and-back trails and loops ranging from 0.5 miles to 35 miles. Enjoy beautiful views of the city in this easily-accessed area.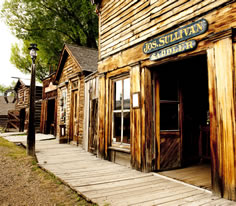 GHOST TOWN WALKS
Enjoy a nice leisurely hike at one of Southwest Montana's many ghost towns. Walk the historic streets or venture up to Bannack State Park, Montana's first territorial capital. Exploring ghost towns on foot makes for a fun day trip, with hiking between stops and on nearby trails. Explore historic pacer mining areas along the German Gulch Trail near Fairmont Hot Springs. More Info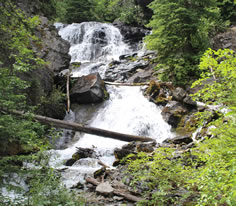 LOST CREEK STATE PARK
Near Anaconda, enjoy a short hiking trail to view the spectacular Lost Creek Falls, cascading over a 50-foot drop. Scan the limestone cliffs for bighorn sheep and mountain goats. Features include restrooms, a campground and a picnic area. Activities include hiking, fishing, bird-watching and wildlife viewing. More Info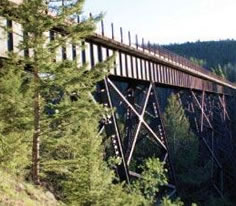 THOMPSON PARK
Located minutes from Butte, this 3,500-acre park is a great place to spend an afternoon hiking forested trails and the abandoned Milwaukee Railroad that includes two tunnels and a trestle that leads to the Continental Divide. Pick a trail that fits your time and bring a picnic lunch to enjoy at three picnic areas. Thompson Park is a great place to view moose, elk and deer.
Moderate Trails
HIGHLANDS LOOKOUT TRAIL
Fifteen miles south of Butte, this hike is a alpine experience! The trail climbs to 9,000 feet and offers panoramic views of the Butte area to the north and the Big Hole Valley to the west.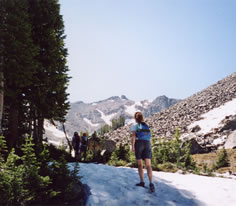 LOST CABIN LAKE TRAIL
This 5-mile trail southeast of Whitehall is well maintained on an easy grade. The peaks surrounding the lake reach elevations above 10,000 feet, providing stunning views. Mountain goats can often be seen on the cliffs to the south and east of the lake. The trail is open for hiking from late June to mid-October. More Info
HAYSTACK MOUNTAIN TRAIL
This 7.2-mile round-trip trek provides a memorable payoff when you arrive at the top of Haystack Mountain—an 8,823-foot overlook offering 360-degree vistas of the Boulder River Valley, Elk Park and other areas. More Info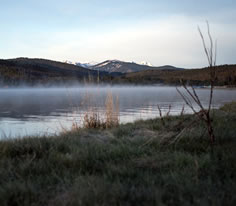 GEORGETOWN LAKE
Georgetown Lake offers several trails ranging from easy to moderate. Explore this beautiful lake setting, which is a great place for wildlife viewing opportunities. Enjoy wildflowers in the springtime and birding throughout the year. Hike as far as you would like and explore as challenging of trail as you would like in this excellent trail system.
CONTINENTAL DIVIDE NATIONAL SCENIC TRAIL (CDNST)
Straddling mountain ridges, the CDNST divides waters that flow to the Atlantic and Pacific. Throughout Southwest Montana, the trail winds through forests, meadows and along ridges, giving visitors adventures of hiking from boulder batholic geology, spectacular vistas, historic mining to remote lakes and valleys. There are hikes of varying distances and difficulty with access from Helena, Butte, Big Hole and Lima. More Info
MAUD S. CANYON LOOP
This well-marked 4.3-mile hike just outside of Butte is a great choice for a scenic, quick trip with lovely vistas. Climb around 1000 feet in elevation and gain beautiful views of Butte and the mountains surrounding.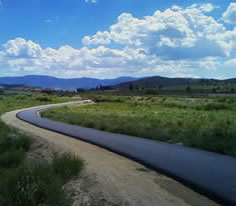 SILVER BOW GREENWAY TRAIL
This greenway travels between Butte and Warm Springs Ponds, spanning 26 miles. Access the trail via trailheads throughout the regions and access streams, trails, and more. Wide open spaces and mountain views are stunning along this trail corridor, and you can pick your distance and speed, making it a great option for a day hike.
More Difficult Trails
BEAR CREEK LOOP TRAIL
A few miles southeast of Ennis, this challenging 12-mile loop threads the saddle between two of the most famous peaks in the Madison Range: Sphinx Mountain and The Helmet. On your 2,400-foot ascent, you'll travel through fields of sagebrush and wildflowers, through dense forests and up into the rocky alpine environment. More Info
HANGING VALLEY NATIONAL RECREATION TRAIL
Located in the Big Belt Mountains, this is a challenging 12-mile round-trip trail to a remarkable location. You'll be rewarded with time in a unique valley flanked by towering limestone cliffs and numerous spires. Along the way, you'll pass under a natural bridge. For a shorter but steeper trip, start this hike from Magpie Gulch. More Info
Learn More About Hiking and Backpacking In Southwest Montana