If your favorite part of Far Cry 5 was the side-fishing fun on the beautiful rivers of Hope County, you're in luck. Fishing is basically a way of life here in Southwest Montana. Every year, trout sportsmen find themselves in this fisherman's paradise. Even anglers who have never been here often feel like they're on a first-name basis with our rivers, as they are so celebrated in trout fishing lore and literature. Away from our famed hot spots, anglers can find equally great fishing—and oftentimes perfect solitude—along other nearby waterways. And then there are the many productive and scenic lakes that dot the region, offering not only great rainbow and brown trout fishing, but also opportunities to fish for kokanee salmon, walleye, and more.
Lake Fishing
Montana is so well-known for its rivers that people sometimes forget about the amazing fishing opportunities on our lakes and reservoirs. You can fish the shorelines or rent a boat and take to the water. You'll have the chance to catch any number of freshwater species, including rainbow trout, kokanee salmon, walleye, perch, and more. The scenery will leave you inspired.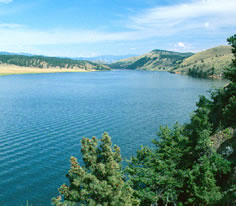 HAUSER RESERVOIR
Fish for rainbow trout, brown trout, walleye and perch at this 3,200-acre reservoir on the Missouri River. Operated by the Bureau of Land Management, several campgrounds are located nearby. More Info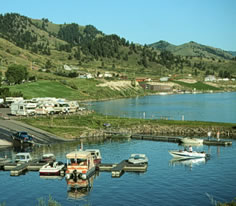 HOLTER LAKE
This is a popular location for both day trips and overnight camping. Species including rainbow trout, kokanee salmon, walleye and perch are found in this beautiful lake setting. More Info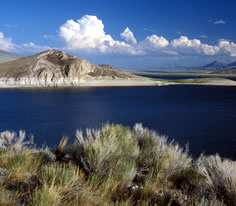 CLARK CANYON RESERVOIR
Here you'll find some of the state's best stillwater fishing for large rainbow trout. More Info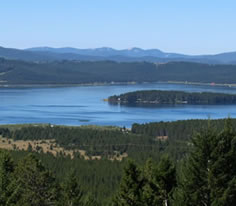 GEORGETOWN LAKE
Nonstop action for pan-sized kokanee salmon and slab-sized rainbow and brook trout make Georgetown Lake the perfect combination of serene setting and great fishing. More Info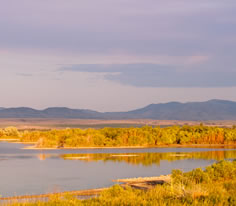 CANYON FERRY LAKE
If you're looking for walleye, look no further than this scenic lake. Big, plentiful walleye lurk in its waters, coexisting with fat, red-fleshed rainbows. More Info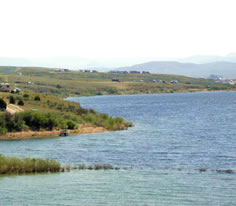 RUBY RESERVOIR
Stocked with trout, this remote and peaceful reservoir is lined with willows and makes for good fishing when water levels permit. More Info
River and Stream Fishing
The rivers that run through Southwest Montana are some of the most scenic and productive rivers in the United States. Many of Montana's rivers are blue-ribbon trout streams, so fishing is a popular a beloved activity in our region. Fish for rainbow trout, brook trout, brown trout and walleye, to name a few.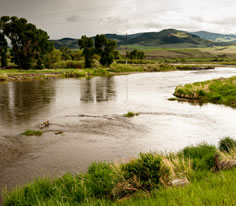 JEFFERSON RIVER
The Jefferson, Madison and Gallatin rivers are the three forks that form the Missouri River. The Jefferson is not as frequented as other nearby spots, which makes for a day of solitude on the water. More Info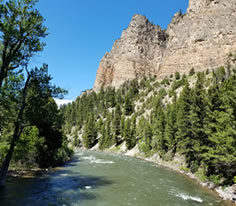 MADISON RIVER
The Madison deserves its reputation as the best trout stream in Montana. The "Fifty Mile Riffle" between Quake Lake and Bear Trap Canyon is home to vast quantities of trophy trout. More Info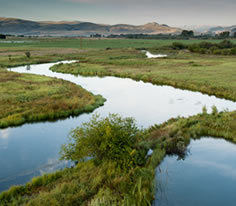 BEAVERHEAD RIVER
With its willowy banks, tight twists and fluctuating water levels, the Beaverhead offers plenty of challenges even to skilled anglers but boasts more trophy brown trout than any other waterway in the state. More Info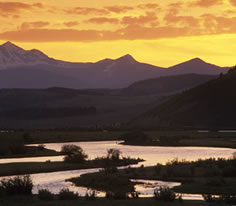 BIG HOLE RIVER
Over its 150-mile course, the Big Hole offers the chance to fish for trophy rainbow, brook and brown trout as well as fluvial arctic grayling—a fish unique to the Big Hole in the lower 48. More Info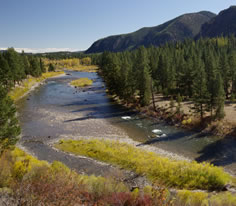 BLACKFOOT RIVER
This is the river that braids its way through the dramatic prose of Norman Maclean's A River Runs Through It, and it remains one of Montana's wildest and most productive fisheries. More Info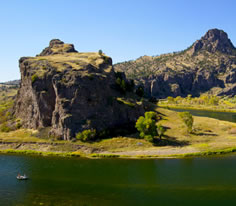 MISSOURI RIVER
Below Holter Dam, this is one of Montana's most popular destination fisheries, with enormous trout found in dense, shallow-water ponds. More Info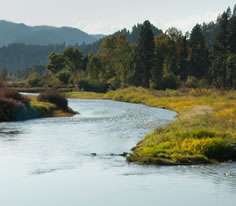 CLARK FORK RIVER
The Clark Fork is quite literally a fork in the Columbia River that runs through Montana and Idaho. The river snakes its way through prairie land and mountain valleys, providing beautiful views and easy access to fishing. More Info